Our guest speakers for today's meeting were Jean and Doug Chadwick from the Kiwanis Literacy Club of Southern California, along with Governor Steven Westphal of the Utah-Idaho District.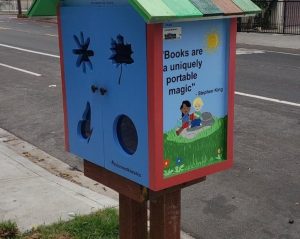 Jean shared with us the importance of reading to her, as she overcame great obstacles in her early years. After being abandoned by her parents, eventually another family welcomed her into their home. She discovered the wonder of books and the inspiration they provide.
Jean took us on a virtual tour of their book inventory storehouse (their garage) to explain the need for having a large number of books on hand to fill the orders as they come in.
Doug spoke about the lending library book box program that first began in a police station. Since then, 150 libraries have been created. Each unique book box is $1250 and it comes with 200 books as well. Enjoy! Share! Repeat!
Doug went on to say that they presented information about their book program at the 2017 CalNeva DCON. While at the Kiwanis Club of Burbank California, they were invited to join the Kiwanis family. They formed the single focus Kiwanis Club. Since then, five more literacy clubs have been started. Despite the pandemic, since March of this year, 52 000 books have been distributed.
Governor Steve spoke about the 10 000 books that his District has pledged to give to their 50 clubs. He has asked clubs to be sure to include a minimum of $400 in their annual budget to continue the book program. His District is excited to partner with the Literacy Club to help children, where for $2, a child will receive a book to keep with the sponsor's label inside.
We thank them for helping children discover the super power of reading!