EOT Friends and Family Cruise
March 27 @ 4:00 pm

-

April 6 @ 7:00 am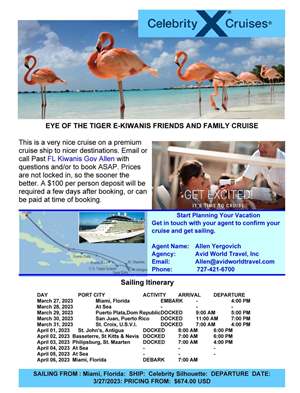 Past Florida Gov Allen Yergovich enjoys traveling so much that he has put together a Eye of the Tiger Cruise in March of 2023.  We would leave Monday March 27th from Miami and return Thursday April 6th, just before Easter Weekend.
The cruise is a 10 day cruise in the Southern Caribbean with the stops listed below, and it seems with this cruise we get the most bang for our Buck.  The most interesting part of this cruise is that any sailing this time of year anywhere with Celebrity or most cruise lines is that traveling a five thru 10 days are mostly the same price, and in some cases the shorter cruises are more expensive.
  So President Jim Rochford has asked me to send this info out and inviting you with the hopes that you will join us and make this an annual event for us and our club members. You can reach Allen for more information and to begin booking your room with only a minimal deposit.  I thank you in advance for your consideration and for more information please contact myself (Joe) or Allen at
Allen@avidworldtravel.com.
Thanks Again,
Joe Meyer